FREE

Ultimate One Hand Backhand Course
Master Your One Hand Topspin And Slice Backhands
Launching July 2020 – Register Now!
Free Online Tennis Lessons
Having a mindset that you will DOUBLE your footwork in tennis will make you a Better Mover immediately. In this video I share the mentality PROS bring to the court when CHALLENGED with [...]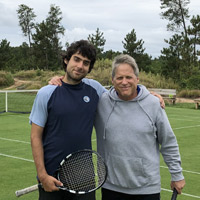 I drove my young son over 100 miles virtually every weekend for three years for the opportunity to learn tennis from John Frausto. Not only did he develop a lethal modern forehand which he still has to this day (10 years later), he taught and motivated him to move quicker on the court than I ever thought possible. On top of that, John Frausto was instrumental in helping my son become the young man that he is today by teaching him a strong work ethic, sportsmanship, how to compete and an appreciation for the game of tennis. For the rest of my son's life, he will never forget the lessons learned from his teacher, John Frausto.
– Ron K., Chicago, IL
Topspin Tennis is a premiere online tennis training website dedicated to the teachings of the Modern Game of Tennis. Founded by USPTA Elite Professional John Frausto, he has worked with thousands of students in his career which include several Division I, II and III players. He and his team have worked tirelessly to bring these simplified and innovative teaching methodologies to everyone around the world.
Photos courtesy of Marianne Bevis ©Copyright 2020 All Rights Reserved.